Update from the Glenns, February 2023
On Sunday, February 5, Anna and Nathan Glenn, missionaries currently transitioning back to the U.S., were presented with a special gift in worship. Writes Anna:
"One of the biggest blessings we have received happened Sunday while at Epworth church when we were surprised by the congregation with one of the most amazing gifts we have ever received in our entire lives: a hand-sewn quilt featuring many different colors and styles of my beloved Liberian lappa (fabrics). It was made by the ever-talented and creative Mary Pursley!

We were speechless and so amazed as they pulled it out of the bag and were overcome with memories and also a deep sense of home and connection. Connection to our home in Liberia, with all the beautiful and vibrant colors, and connection to our home here in the US, where so many people from this church and many others have welcomed us back and made us feel at home. We will cherish this forever
"
Later that evening the Glenns treated friends, family, and supporters to dinner, featuring both Liberian and American dishes, as they shared highlights from their last seven years serving in agricultural missions. Please stay tuned to learn what is next for the Glenns!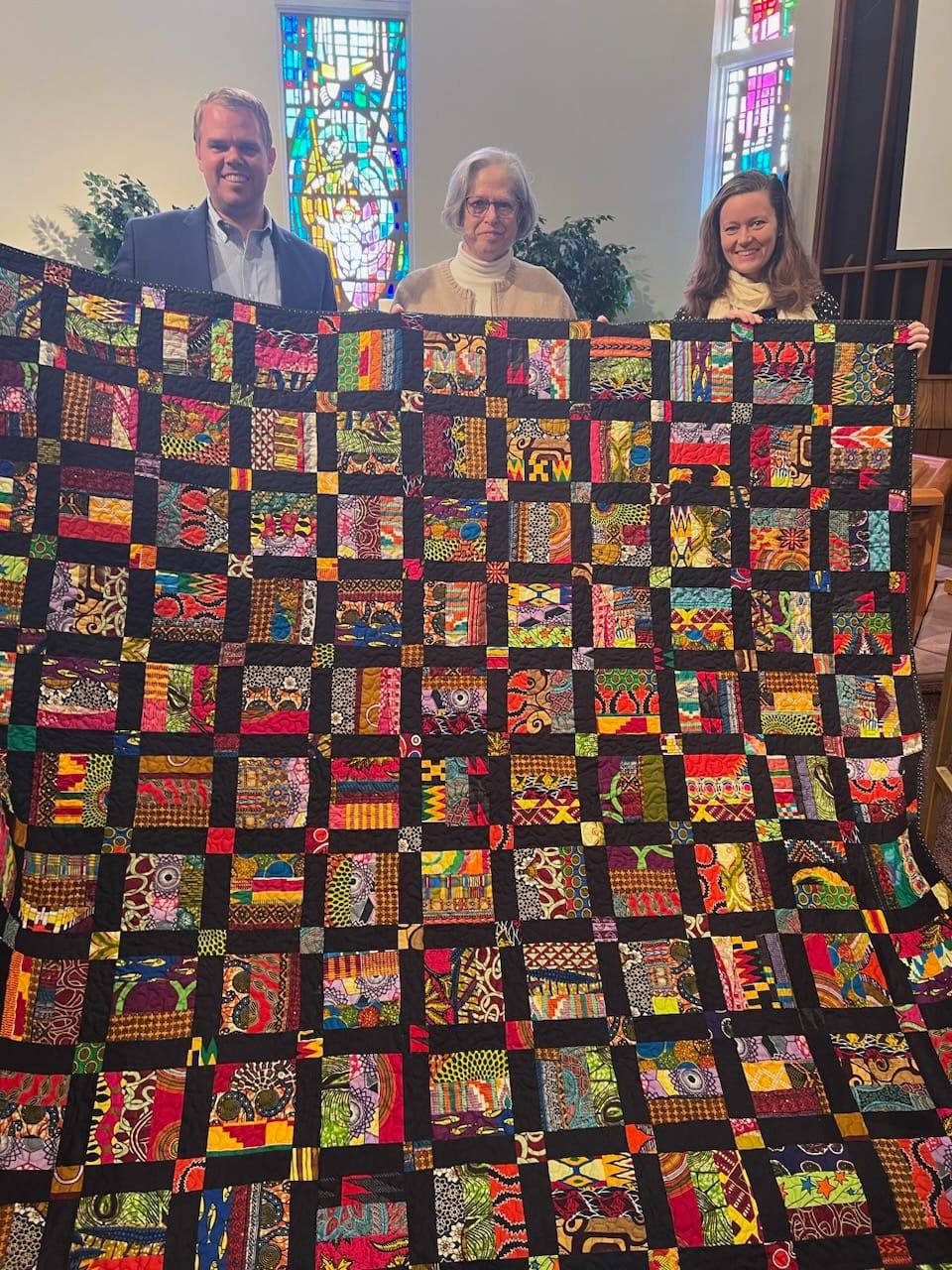 Anna and Nathan Glenn are missionaries transitioning back to the U.S. after serving in Liberia, West Africa and they are supported by Epworth UMC.
Anna Glenn (formerly McGucken) has been a member at Epworth ever since she started out at the Epworth Children's Daycare Center. It was through her involvement at Epworth, particularly the youth group, that her faith grew and it was through participating in various mission trips with the church that her love for missions developed. Anna and Nathan worked for Hope in the Harvest, a faith based agricultural development NGO whose vision is to see both agricultural and spiritual transformation throughout Liberia, one of the poorest countries in the world.
Together they worked and taught at Liberia International Christian College (LICC) in Ganta, Liberia. They taught agriculture classes, led devotions and bible studies, oversaw a research/demonstration farm, mentored local agricultural businesses and business owners, trained teachers, and did outreach with farmers. They have found that in teaching agriculture, there are so many natural parallels that lend themselves to conversations about faith and they are encouraged and excited about the way to in which God has used these conversations to bring glory to His kingdom! They are passionate about continuing to teach agriculture alongside the gospel so that they can continue to help to feed both the stomach and the spirit of those who hunger and are in need of something more.
To learn more or donate toward their ministry, visit their blog, or email them at glenns@hopeintheharvest.org.